Media inquiries
CareOregon works with multiple community partners to help people get health care, housing, employment, education, healthy food and more. Helping just one person or family can make an entire community stronger. It's something we call the CareOregon Effect.
Please contact us for further information. We welcome your requests for interviews with CareOregon's experts or our members, for background information or to arrange a guest speaker for your organization.
Contact:
Becca Thomsen, Communications Manager
503-416-3756
thomsenb@careoregon.org

Our areas of expertise include:
Oregon Health Plan (Medicaid)
Medicare
Medical homes
Lean process improvement in health care settings
Human-centered (a.k.a. user-centered) design in health care
Member councils and member advocacy efforts
Innovative approaches to member well-being
Health care policy
Latest news, press releases and updates
CareOregon honored as corporate philanthropist, innovator, workplace
Oct 28, 2018, 07:00 AM
This week, CareOregon was twice honored at the 2018 Corporate Philanthropy Awards. CareOregon was recognized among the leading "enterprise-level" corporate givers — those with more than $100 million in annual revenue. Additionally, our Primary Care Investment Fund (PCIF) received one of three awards for Innovation in Corporate Philanthropy.
The Corporate Philanthropy Awards are presented by the Portland Business Journal and are based on cash contributions to nonprofits in the 2017 calendar year.
CareOregon gave $5,293,378, ranking us among the top five givers of companies that size, along with Cambia Health Solutions, Intel, Nike and Kaiser Permanente.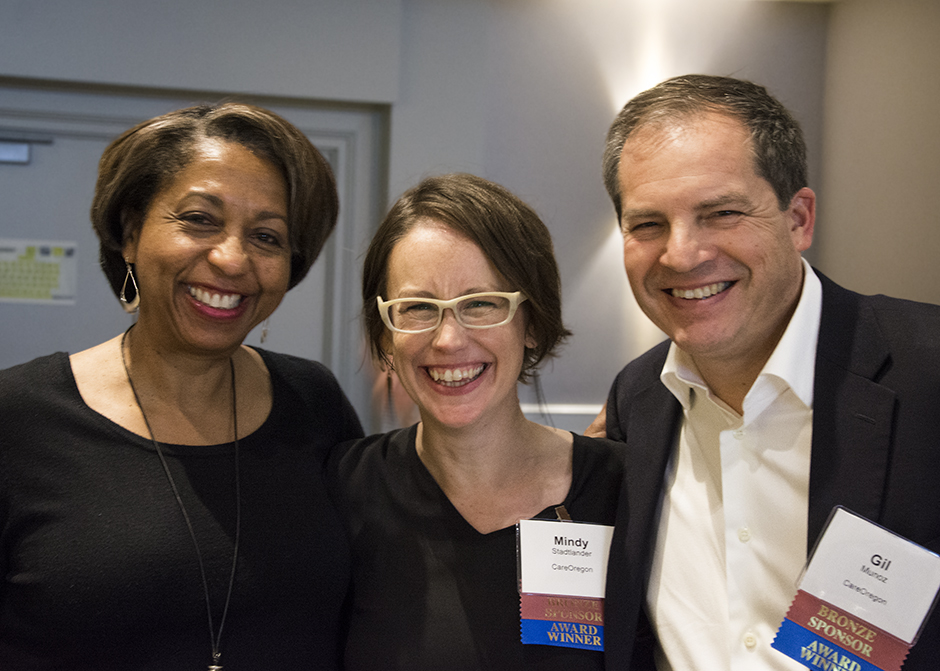 Vanetta Abdellatif, CEO of Multnomah County Health Department Community Health Centers, with Mindy Stadtlander (center), Executive Director, Medicaid and Network Services and Gil Muñoz, chief executive of Virginia Garcia
The additional award for innovations was granted for the PCIF program, our structured loan forgiveness program that gives primary care clinic organizations the opportunity to access funding for improving care delivery operations, and adding new physical capacity. These loans are forgivable if the grantees achieve measurable business goals they set as an anchor for the award contract.
PCIF loans were to La Clinica in Jackson County, the Public Health Foundation of Columbia County, Virginia Garcia Memorial Health Center and Multnomah County Health Department.
Vanetta Abdellatif, CEO of Multnomah County Health Department's Community Health Centers, and Gil Muñoz, chief executive of Virginia Garcia, joined the CareOregon delegation at the Wednesday luncheon.
"This program has been great," Abdellatif said. I'm really glad that we were able to participate in it. Since we've started, it's helped us to improve access and quality for the vulnerable people in our community and at our health centers. In partnership with CareOregon and other community health centers, we've really been able to move the needle on quality and access.
Presently, the program is a pilot project scheduled to be completed next June.
In recent weeks, CareOregon has been: