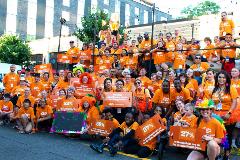 For more than 25 years, CareOregon has served Oregonians who qualify for Medicaid by providing health insurance and much more. We believe that by making individuals and families healthier, we make entire communities healthier too. That's The CareOregon Effect.
We give our members access to physical, dental and mental health care, and substance use treatment.
We provide Oregon Health Plan insurance benefits for three coordinated care organizations (CCOs) in Oregon: Jackson Care Connect, Columbia Pacific CCO and our partner Health Share of Oregon. We also operate CareOregon Advantage (a Medicare Advantage plan) and CareOregon Dental (a dental care organization).
We support the providers who care for our members.
We contract with a large provider network to serve members in each of our CCO regions. At the same time, we work hand-in-hand with our providers through shared programs and technical assistance so they can do their best work. We strive to support financial stability by designing value-based payments that reward high-value care.
We partner to create stronger communities.
Committed to the state we love and the communities where we live, CareOregon's Community Giving grant program has gifted more than $20 million to local organizations. We also support Medicaid members in communities by connecting them with social service agencies and through programs like Tribal Care Coordination and Connect to Care.
We advocate for a better tomorrow.
CareOregon works with legislators and regulators at the local, state and federal level to make sure Oregonians have access to quality health care. Our work in public policy advocacy continues through our support of recent legislative efforts to bring transparency and accountability to CCOs.
We innovate on behalf of our members.
We have decades of experience at the intersection of medical cost management and health policy development. We use this accumulated knowledge to develop and implement programs addressing the challenges of health equity and care management.