Media inquiries
CareOregon works with multiple community partners to help people get health care, housing, employment, education, healthy food and more. Helping just one person or family can make an entire community stronger. It's something we call the CareOregon Effect.
Please contact us for further information. We welcome your requests for interviews with CareOregon's experts or our members, for background information or to arrange a guest speaker for your organization.
Contact:
Becca Thomsen, Communications Manager
503-416-3756
thomsenb@careoregon.org

Our areas of expertise include:
Oregon Health Plan (Medicaid)
Medicare
Medical homes
Lean process improvement in health care settings
Human-centered (a.k.a. user-centered) design in health care
Member councils and member advocacy efforts
Innovative approaches to member well-being
Health care policy
Latest news, press releases and updates
CareOregon names Boys & Girls Clubs of the Portland Metropolitan Area to be its official community-based organization partner for the CareOregon Starlight Parade
Apr 28, 2022, 07:00 AM
(PORTLAND, Ore.)—Today, CareOregon announced that Boys & Girls Clubs of the Portland Metropolitan Area (BGCP) will be its official community-based organization partner for the CareOregon Starlight Parade.
"For CareOregon, headlining the Starlight Parade is about bringing people back together and reenergizing Portland," said Eric C. Hunter, CareOregon CEO. "When it came time to select a community-based organization to share this spotlight, we immediately thought of the Boys & Girls Club. We have a similar spirit and commitment to serving the community. Working with the Boys & Girls Club is about building brighter futures. I think that everyone in our region is ready that kind of positivity and optimism."
This partnership builds on ongoing work between the two organizations. In late 2021, CareOregon announced a new 10-year partnership with the Boys & Girls Clubs of the Portland Metropolitan Area which includes a deep investment in BGCP's club in the Rockwood neighborhood—naming it the CareOregon Boys & Girls Club at Rockwood.
"The collaborative partnership we share with CareOregon creates transformative impact in the communities we serve. We build great futures for youth by creating environments where they can gain access and exposure to opportunities that would be limited without our presence in the community. The amount of opportunity we can expose our young people to became much greater when CareOregon joined forces with us", said Terry Johnson, BGCP CEO.
CareOregon and Boys & Girls Clubs have a history of working together to spark joy and bring energy to Portland Rose Festival activities. In 2019, the organizations shared the spotlight at the Starlight Parade with CareOregon staff and Club kids dancing in a joint parade entry.
This partnership was commemorated in a brief ceremony on Earth Day, April 22, where a Rose Festival Royal Rosarian planted the 2022 official Rose Festival Rose 'Firefly' at the CareOregon Boys & Girls Club site at SE 165th and SE Stark Street. Boys & Girls Clubs CEO Terry Johnson, CareOregon CEO Eric C. Hunter, and a gaggle of elementary school aged Club kids participated in the ceremonial planting.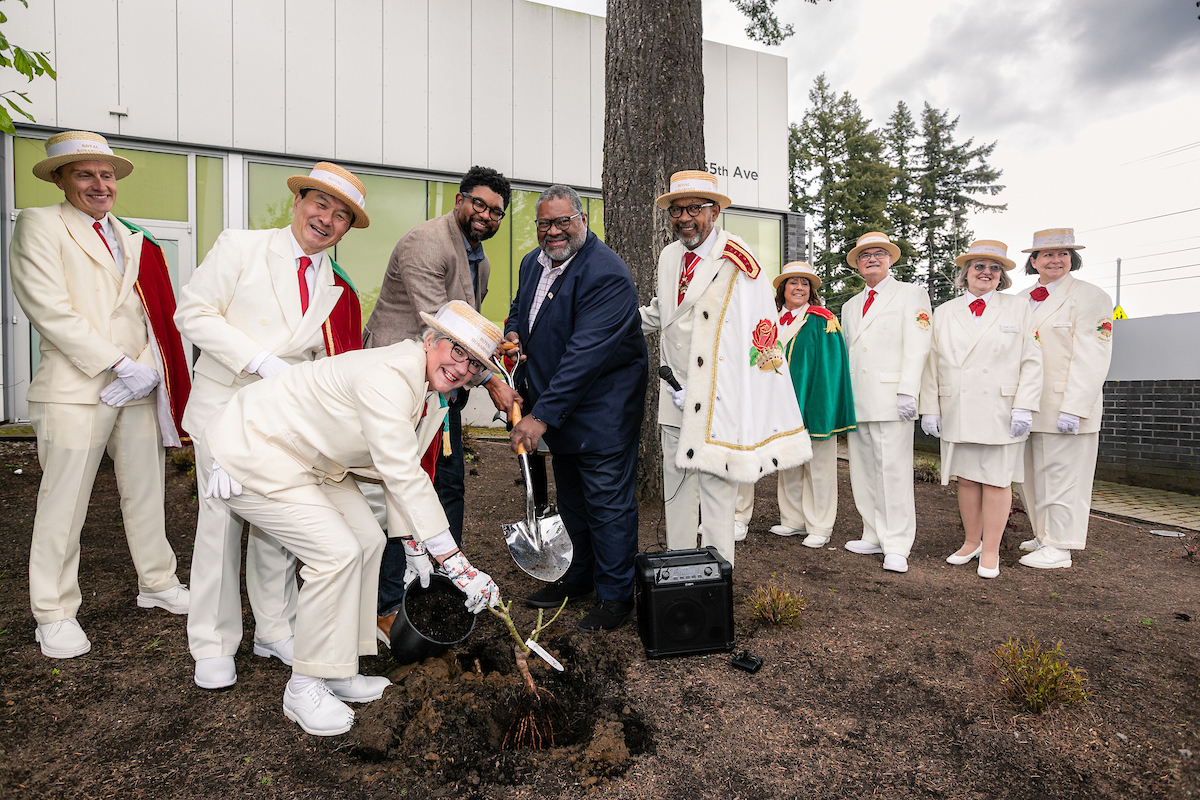 For more information contact:
Becca Thomsen, CareOregon, 503-416-3756
Rachel Jeffreys, Boys & Girls Clubs, 503-732-9373
About Boys & Girls Clubs of Portland Metro
Boys & Girls Clubs of Portland Metro Area plays a vital role in our community serving youth for over 75 years. BGCP empowers youth to discover their full potential through impactful after-school and summer programs. Clubs are designed to support kids and teens as they develop the qualities, they need to achieve academic success, become responsible leaders, and live healthy lives. Today, the Clubs operate 11 Clubhouses located throughout the metropolitan area, including school-site programs in the North Clackamas and the Hillsboro School Districts.
About CareOregon
For more than 25 years, CareOregon has offered health services and community benefit programs to Oregon Health Plan members. Today, we support the needs of more than 500,000 Oregonians through three coordinated care organizations, a Medicare Advantage plan, a Tribal Care Coordination program, a dental care organization, and in-home medical care with Housecall Providers. CareOregon members have access to integrated physical, dental and mental health care, and substance use treatment. We believe that good health requires more than clinics and hospitals, so we also connect members to housing, fresh food, education and transportation services. CareOregon is a mission-driven, community-based nonprofit with offices in Portland, Medford and Seaside, Oregon.