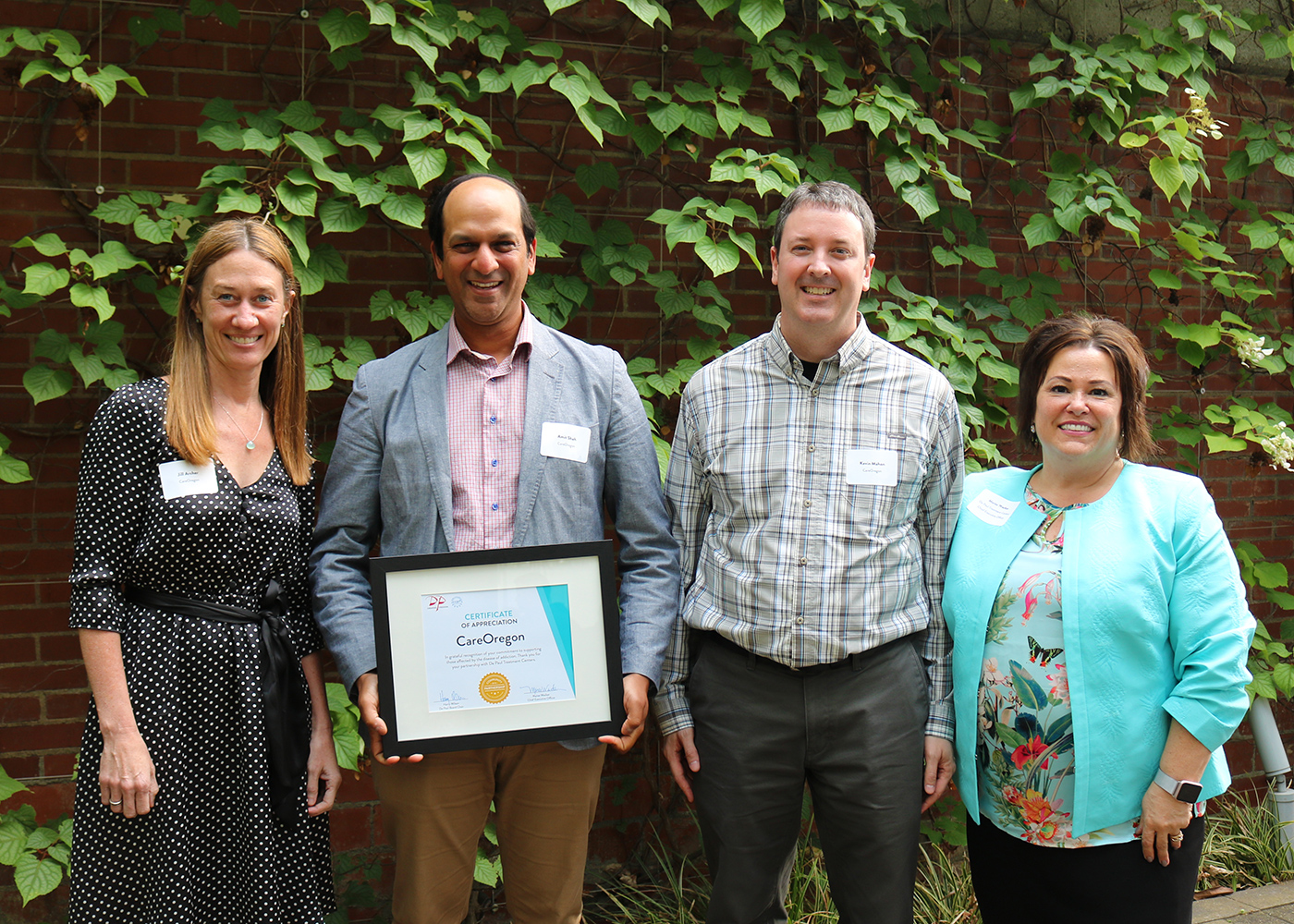 PORTLAND, Ore. — On Thursday, June 21, at the Eliot Center in Portland, De Paul Treatment Centers recognized CareOregon as one of two Community Partners of the year. CareOregon, a non-profit organization providing Medicaid managed health care plans to low-income Oregonians, has been key in supporting De Paul's mission of helping individuals, families and communities recover from a substance use addiction.
CareOregon received the award for providing exceptional care coordination, problem-solving and conflict resolution for their CareOregon members. De Paul is a participating provider in CareOregon's Health Resilience Program, and continually sees the positive impact of this program for individuals with high medical and mental health needs in the community.
"CareOregon has demonstrated time and again that they fundamentally understand that the disease of addiction has a profound impact on the physical health of their members," said Maree Wacker , CEO of De Paul. "They consistently support the integration of physical and behavioral care to deliver the highest quality health care to their members—supporting them on their journey to recovery and health. We are elated to present this partnership award and recognize CareOregon's leadership."
CareOregon continually advocates for a health care delivery system that leaves no one without care.
"We are greatly honored to be chosen for this award," said Dr. Amit Shah, CareOregon's chief medical officer. "This award is especially valuable because it recognizes the importance of health care integration. The primary goal of Coordinated Care Organizations has always been the integration of medical, behavioral and oral health, especially at the service delivery level for our members. The collaboration with DePaul has provided our members with greater access to high quality substance use disorder treatment and coordination with their primary care medical homes, enabling our members to gain greater control over their health, their lives and their futures."
• For information about CareOregon, contact Jeanie Lunsford, 503-416-3626, lunsfordj@careoregon.org.

• For information about De Paul Treatment Centers, contact Sandy Parkin, 503-467-9090, sandy.parkin@depaultc.org.


Caption: (Left to right) Jill Archer, CareOregon director of behavior health and integration; Amit Shah, MD, CareOregon chief medical officer; Kevin Mahon, CareOregon clinical social worker; Maree Wacker, CEO for De Paul Treatment Centers.