This International Women's Day, CareOregon celebrates Safina Koreishi, MD, MPH, our Senior Medical Director of Clinical Services and Medical Director for Columbia Pacific CCO, and the contributions she makes toward improving the health of the communities we serve. We asked her a few questions about her position(s), her embedded community work, and what it's like to be a woman in a leadership role.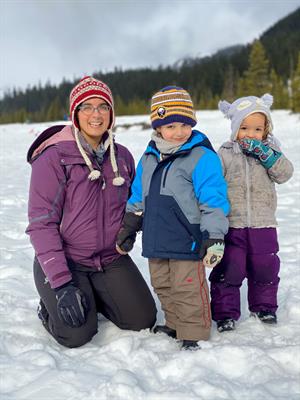 Q: Can you describe your role at CareOregon and Columbia Pacific CCO? How do you work with the two entities, and what is the primary function of the Senior Medical Director of Clinical Services?
For almost 6 years, I have been Medical Director for Columbia Pacific CCO (CPCCO). I lead the development of the clinical strategy for the Columbia Pacific region, in partnership with our amazing team, and our wonderful clinical network. I also lead the Clinical Advisory Panel, which is made up of interdisciplinary leaders from the region, who come together to help set the clinical strategy. Columbia Pacific is a community-based CCO, governed by a community board, and guided by Community Advisory Councils, and Clinical Advisory Panels comprised of community members. Columbia Pacific CCO is owned by CareOregon and CareOregon provides many of the staff who work within our CPCCO team.
CareOregon also owns and/or supports two other CCOs (Jackson Care Connect and Health Share of Oregon), as well as other lines of business (Medicare). Because of this large and broad footprint, and the expertise that CareOregon holds in the Medicaid space, we have the ability to share efficiencies, knowledge and skills across all regions. We also have an opportunity to align some of our work from a quality perspective, given that our overall focus related to CCO 2.0 is similar (though somewhat different based on specific needs of the region).
My new role as Senior Medical Director of Clinical Services for CareOregon, is in service to all of CareOregon to help cultivate an aligned approach to clinical quality within the organization and advise on clinically-related services throughout the departments and regions. I am working closely with Amit Shah (CMO), the CMO management team, and the other medical directors at CareOregon to help develop a Quality and Health Outcomes framework to approach our clinical quality work. I am also excited to keep learning about what this new role will entail.
Q: Are you currently also teaching at OHSU? What do you teach there?
I am an assistant professor at OHSU (adjunct). This means that I am on clinical faculty. I see patients at the OHSU Scappoose clinic. I do teach medical students as they rotate through the clinic. I also help precept residents when needed. We also have held an annual session for Family Medicine residents at OHSU teaching them about CCO's, CareOregon, Oregon Health Plan, and Health Systems.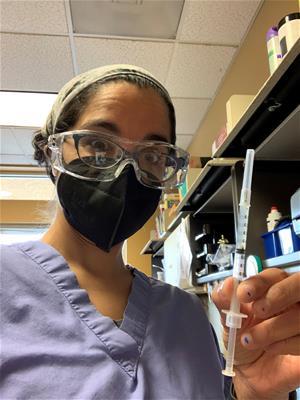 Q: What is the Oregon COVID-19 Vaccine Advisory Committee? Can you talk about your role in that group and how it is working to support the vaccine effort?
The Oregon COVID-19 Vaccine Advisory Committee was a committee of 27 people, who were selected by the Oregon Health Authority to come together to help develop the prioritization for Oregon after those who are 65+. The intention was to have diverse representation from community leaders and the health sector to advise on this, using an equity approach. I was honored to be the CCO representative and I learned a lot from the amazing people on the committee. It is extremely complicated to make recommendations related to prioritizing resources, especially one as important as the COVID vaccine. And it is very important to prioritize those most impacted by COVID, and communities/populations who have been disproportionately affected. In parallel to this, we (CPCCO, JCC, and CareOregon), are working hard in partnership with public health, our communities and network to develop ways to best support our membership to be able to access the vaccines once they are eligible.
Q: We are sharing this story on International Women's Day – do you have any reflections you would like to share as a woman in a position of leadership? Either about your path to this point or ideas to activate for the future?
You can do it all. You can not do it all at once. Learn and know your strengths (there are actual concrete ways to do this, like Strengths Finder). Cultivate them. Learn and know where you need to bring others in to fill areas you are less strong in. Know what drives you, and always stay true to that. For me, it is social justice, improvement, love, and connection. Honor openness and vulnerability as the strength that it is. Often times in our society, vulnerability within leaders is viewed as a fault. I view it as a strength, and work every day to show up as who I am. If I am feeling exhausted, or overwhelmed, or need help, I let people know. Knowing when you need help, and asking for it, can protect against burnout, and simultaneously cultivate teamness and relationships.
Find mentors, and be a mentor, very intentionally. I have been lucky through my career path to have amazing mentors along the way. Those who have helped me grow professionally, and personally. Those who have helped me see my strengths when I could not. Everyone needs a mentor. We all can also be mentors to others.
Leadership is so much about understanding yourself and who you are. It is about service. It is about being able to navigate relationships, connections, and elevate and honor other people. Women, and female-identifying people, are amazing leaders. Sadly, we often have to work harder to have other people see the value of our opinions, work longer in our positions in order to gain the same respect as men, or deal with other inequities that current societal culture puts upon us… but so many have paved a path before us, and we continue to mold that path for the future. We are fierce, and we are vulnerable. We are open, and we are strong. We understand the value of relationship and connection, and we can multi-task and navigate the important aspects of human behavior. We are perseverant, diligent, confident and capable. We understand the value of time away from work, family, and do the work every day to remember that (sometimes it is hard).
Women's History Month is a dedicated month to reflect on the often-overlooked contributions of women to United States history. International Women's Day, a global celebration of the economic, political and social achievements of women, falls within the same month. CareOregon is grateful for the contributions of women throughout history, and for all of the female identified folks in our organization who lead, support and embody our mission in their everyday work.