Meet Troy, Tribal Liaison & Tribal Care Team Supervisor
Jul 21, 2021, 15:00 PM
"I feel very lucky to be working with an organization that respects Native autonomy and has such an excellent reputation and trusting rapport with Tribal stakeholders throughout Oregon," says Troy, CareOregon's Tribal Liaison and Tribal Care Team Supervisor. "It's pretty cool that Tribal leaders chose us to do this important work."
The work she praises is that of CareOregon's Tribal work and our Tribal Care Coordination program, a program open to all American Indians and Alaska Natives on the fee-for-service (open card) Oregon Health Plan who may need help overcoming barriers to their health.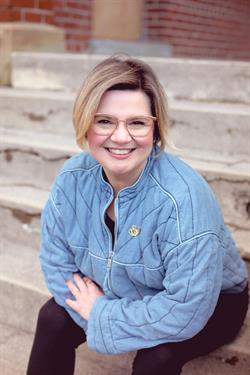 "My role, and CareOregon's involvement in Tribal healthcare, were born out of a request by Tribal leaders to CareOregon, asking for assistance in providing culturally specific services and consultation to Tribes, Tribal organizations, and all Medicaid members statewide who identify as American Indian/Alaska Native," says Troy. This includes any Oregon Medicaid member on open card who identifies as American Indian/Alaska Native. These members may be not formally enrolled in their tribes or their tribes may not be federally recognized (many in the country are not) and/or their tribes may not be from Oregon. It also includes members of Oregon's nine sovereign, federally recognized Tribes: the Burns Paiute Tribe of Harney County; the Confederated Tribes of Coos, Lower Umpqua and Siuslaw Indians; the Confederated Tribes of Grande Ronde; the Confederated Tribes of Siletz Indians; the Confederated Tribes of the Umatilla Indian Reservation; the Confederated Tribes of Warm Springs; the Cow Creek Band of Umpqua Tribe of Indians; the Coquille Indian Tribe and the Klamath Tribes as well as NARA (the Native American Rehabilitation Association).
Her role is an internal link between CareOregon (including our affiliated CCOs, Jackson Care Connect and Columbia Pacific CCO) and our Tribal health partners statewide. She also acts as a resource to support any needs and foster engagement with Native communities. "As a Harvard-trained anthropologist, it's very satisfying to have a job that allows me to apply my nerdy, fancy degrees to real-world issues. Also, I'm Native myself (Lumbee), so working to improve health outcomes for Native people and provide culturally relevant consultation and supervision is a role that is very near and dear to my heart," she adds.
Troy also serves as subject matter expert for CareOregon related to Tribal culture, culturally attuned programming and communication, and trauma-informed care as it relates to serving our Native communities. "Tribal people have some of the most significant health disparities in our country," she says. "Complicating that is the fact that culturally responsive services and providers can be hard to come by. Culturally responsive services and trauma-informed care go hand in hand."
Many Native folks (herself included) have been treated very badly by healthcare providers and trust can be a big issue. "It's also important for Native providers to have professional consultation from people who understand the nuances in communication and expectations in Indian Country as well as the legacy of transgenerational trauma and Native resilience," she says.
As a licensed counselor and medical anthropologist, Troy started her behavioral health career at NARA (the Native American Rehabilitation Association). Her first job at NARA was as the Mental Health Therapist for what was then called their homeless outreach program. "I was fortunate enough to wear many hats while at NARA and my final position there was as Director of Primary and Behavioral Healthcare Integration. It's been wonderful to come full circle with that work and get to collaborate with my NARA family in my current role as Tribal Liaison for CareOregon, JCC and CPCCO."
One of the things that she most enjoys about this role is developing and fostering strong relationships with Tribes in Oregon and NARA, and working as an intermediary between Oregon Health Authority, CareOregon and Tribes.
"Given that self-determination is a big deal in Indian Country, I want to make sure to emphasize that the work CareOregon is doing in Tribal healthcare is very much driven by Tribal stakeholders and their expressed needs. The leaders of our program have managed to walk the fine line between prioritizing Native self-determination and providing expert consultation," she concludes.
CareOregon, our partners and the Tribes are lucky to have such a passionate advocate on the Tribal Care Coordination team.
For more information about the Tribal Care Coordination program at CareOregon, click here to download our informative brochure.