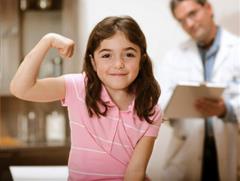 Vaccines — sometimes called immunizations or shots —help children and adults fight disease. Vaccines prevent people from illnesses that can, in some cases, lead to death. In some areas of the world, vaccines have nearly wiped out certain diseases.
Flu shots are also important. You need a flu shot each year because the flu virus changes. Everyone over 6 months of age should get an annual flu shot. CareOregon covers the cost of most vaccines for children and adults.
Your provider recommends vaccines for you based on your age and health. It's important to keep children's vaccines up to date, especially if they're in childcare, Head Start or school. A one-time vaccine in childhood helps children avoid diseases before they are exposed to them. Talk with your provider about this at well-child visits.
When should I see my doctor about vaccines?
Click on a link below to learn when you or your child should get their vaccines.