CareOregon awards $79,867 grant to help Lutheran Community Services Northwest deliver culturally specific mental health support to Ukrainian refugees impacted by ongoing war
Jul 27, 2022, 07:00 AM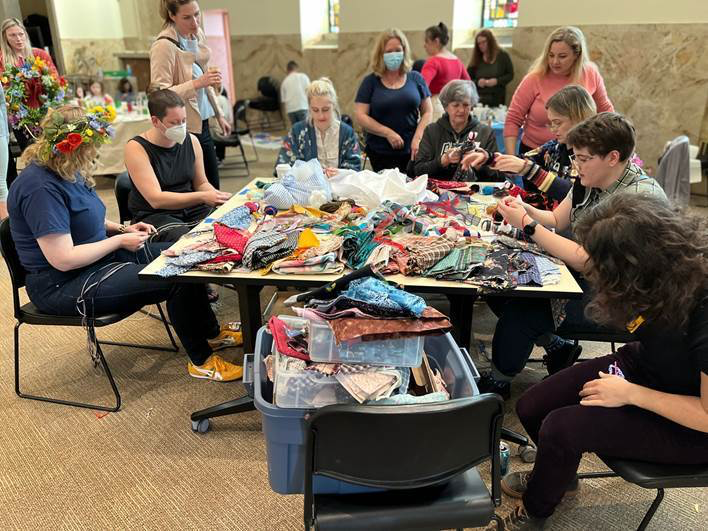 Ukrainian Open Studio community healing event organized by Lutheran Community Services Northwest.


Since March, millions of Ukrainians have been displaced from their country due to the Russian war on Ukraine, some of whom have sought refuge in Oregon. Ukrainian asylees and refugees continue to deal with intense levels of trauma, stress and lack of resources and are increasingly in need of culturally specific and trauma-informed mental health care. CareOregon has provided Lutheran Community Services Northwest with a $79,867 grant to help make more culturally specific mental health resources available to newly arriving and already resettled Ukrainian refugees in our region.
"The role and impact of community-based organizations in times of crises and emergencies cannot be overstated," said Ifeoma Muoto, CareOregon Director of Community Health Partnerships for the Metro region. "We are proud to support Lutheran Community Services Northwest and their mission to provide necessary trauma-informed and culturally specific clinical and non-clinical mental health interventions, treatment and social support to the Ukrainian community at such a difficult and critical time."
Currently, Lutheran Community Services Northwest is growing its Ukrainian specific programming to support as many Ukrainian refugees as possible. The funds from the grant will be used to hire one additional full-time peer support specialist and one Ukrainian speaking clinician that will support the increasing demand for care. The grant will also help fund additional support for the broader Ukrainian community.
"Because many of the refugees are experiencing high levels of trauma, making trauma-informed mental health support available that is also culturally specific is essential," said Luba Gonina, Lutheran Community Services Northwest Clinical Manager. "Cultural identity plays a huge role in these refugees' lives. Having peer support specialists that speak the language, recognize, understand and validate the experiences these refugees have gone through is how we provide the best mental health care possible during this difficult time of war."
The peer support specialist will provide timely support to Ukrainian refugees to help address mental health and trauma and connect clients to the appropriate services and resources. Services include individualized psychological first aid such as mental health counseling, emotional support groups, workshops to aid in resettlement and referrals for any additional needs like wellness exams, immunizations, housing, employment and more.
Since the beginning of the war, the Lutheran Community Services Northwest's program has helped hundreds of refugees and members obtain the mental health care they need. As a result of this grant funding, 30-55 additional individual Ukrainian community members will receive some form of direct client assistance. The grant will also help support an additional 45-60 individual Ukrainian community members seeking peer support services. As the program continues to grow, an additional 100-150 individual Ukrainian community members will also have access to community educational/informational events that will aid in their resettlement transition.
"The clients we serve are deeply impacted by this war and the displacement of themselves and their people," Gonina said. "We are feeling restless about what we are doing to support these asylees and refugees and want to continue growing our services to reach as many people as we can. We are grateful to CareOregon for how quickly they responded to our request and are hopeful that more refugees will get the mental health care they need."
About the Ukrainian-specific program
Lutheran Community Services Northwest has helped resettle thousands of Ukrainian refugees in their history.
When refugees first arrive to the United States, they become eligible for humanitarian parole and can receive temporary protective status that qualifies them for Oregon Health Plan. In response, Lutheran Community Services Northwest established a rapid engagement response hotline where refugees can call to directly speak with a Ukrainian clinician. It's a space where clients can express their needs, ask for resources and get referred to clinical services.
In addition to rapid engagement response and mental health supports, Lutheran Community Services organized two resource-sharing meetings: the first was a roundtable discussion comprised of 34 Eastern European service providers in the area, including churches, volunteer organizations and other civil services. The second meeting was comprised of 20 Ukrainian and Russian speaking mental health professionals and counselors working in private practices. Together, they detailed and shared resources that support the broader Ukrainian community.
They also hold a regular, hybrid emotional support group that helps refugees in their resettlement process. They provide informational workshops where refugees and the larger community can connect with one another, ask questions about resources and services and express any needs. Topics range from information on how to start a small business, parenting in wartime, education systems, how to transfer credentials/experiences, job attainment and more.
About Lutheran Community Services Northwest
Lutheran Community Services Northwest is a nonprofit organization helping refugees find stability in the Pacific Northwest. They provide behavioral health services, family and community support, refugee and immigrant services, child welfare programs and more.