CareOregon, SOLVE and the Portland Rose Festival hosted a cleanup event at the Portland Waterfront ahead of this year's Rose City Festival
May 25, 2023, 18:29 PM
Last week, CareOregon teamed up with SOLVE and the Portland Rose Festival to clean up downtown Portland ahead of this year's Rose Festival. Over 125 volunteers worked together to pick up an estimated 1,000 lbs of trash along the waterfront and downtown business district!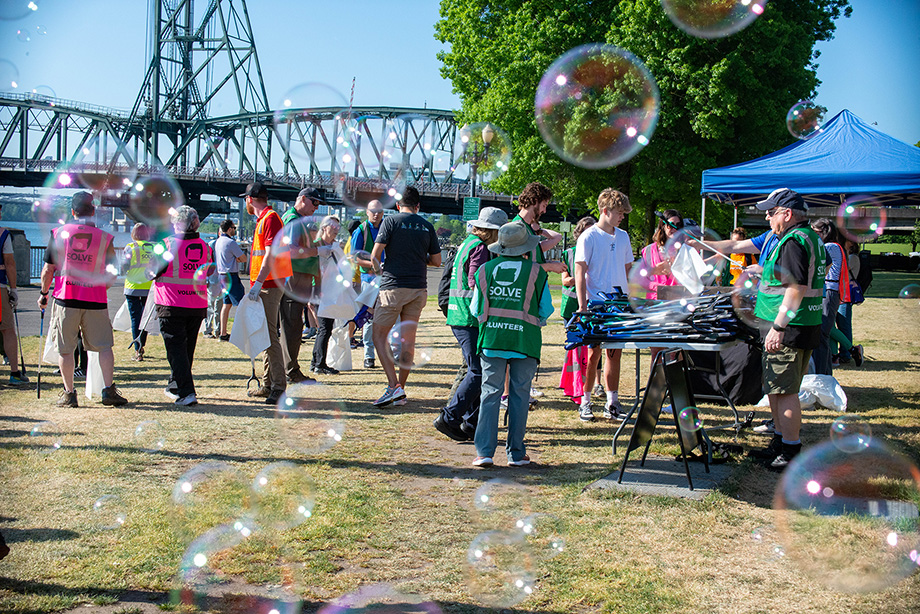 "We are the biggest riverfront festival in Oregon and we are in downtown Portland because this is the best city in America to celebrate the Rose." says Marilyn Clint, Portland Rose Festival Foundation CEO. "The Rose Festival brings people together and we're proud to partner with CareOregon and SOLVE in continuing Portland's comeback story."

Volunteers from CareOregon, the Portland Rose Festival Foundation, and a broad swath of community members came together to get downtown ready for a season of events, including the CareOregon Starlight Parade. Even the Rose Festival's Clown Prince got in on the action.
"Downtown Portland is the heart of our city, and we're proud to team up with SOLVE to help keep it clean, especially as we look forward to this year's CareOregon Starlight Parade," said Alison Arella, Vice President of Community Impact. "We love being a part of this community and want to help ensure it is a safe, clean, and welcoming place for everyone."
"We're thrilled to partner with SOLVE and the Portland Rose Festival Foundation to help keep our city clean and vibrant," said Arella. "By working together, we can make a real difference in the lives of our fellow Portlanders and ensure that our city remains a great place to live, work, and visit."
This is the second year in a row that these partners have come together to beautify the Rose City.
"It was great to see volunteers and downtown businesses team up to help remove trash in the area and get the waterfront and commercial districts ready for the upcoming Rose Festival events," said Kris Cariso, SOLVE CEO. "We really appreciate the pride that the local community feels about this city, and we were proud to partner with CareOregon and Rose Festival to help do our part at this amazing event."
SOLVE is an Oregon non-profit organization that routinely hosts trash pickup and habitat restoration events all over the state. SOLVE just wrapped up their Oregon Spring Cleanup series of events and it was an astounding success, with 150 events across Oregon where over 5,000 volunteers collected 81,000 lbs of trash.
SOLVE continues to host events year-round, including a series of trash pickup events throughout the city's commercial districts in the lead-up to the festival. The Rose Festival kicks off on Friday, May 26 and the CareOregon Starlight Parade is set to take place on June 3.