Second "Housing is Health" facility opens in north Portland
Dec 6, 2018, 08:00 AM
There was a marked difference between the groundbreaking in scorching heat at the Charlotte B. Rutherford Place 16 months ago, and its chilly, windy grand opening Tuesday. But despite the wind chill hovering in the low 30s, the event brought a lot of warmth from the community members and civic leaders who gathered to celebrate Portland's newest affordable housing.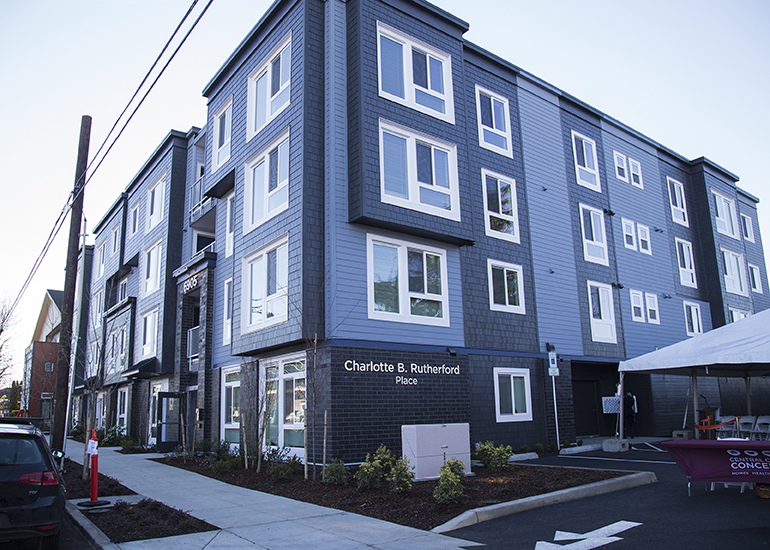 Charlotte B. Rutherford Place, low-income housing project in North Portland.

There is a growing body of evidence that shows where people live has a direct relationship with how healthy people are, said CareOregon CEO Eric C. Hunter, who spoke at the event.
"The quality of people's health is rooted in where they call home," he said.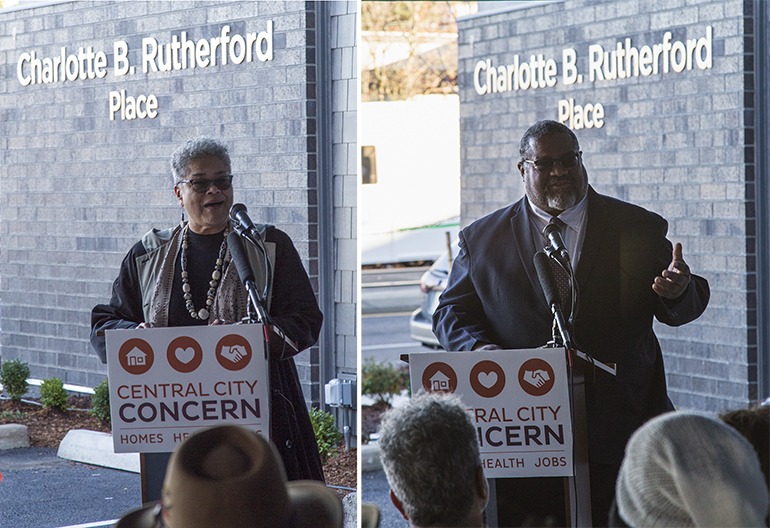 The Hon. Charlotte B. Rutherford (left) was an honored guest at the grand opening of the facility named for her. CareOregon CEO Eric C. Hunter, representing the six health care organizations who committed $21.5 million for this and two other low-income housing projects, also spoke.

The facility, at 6905 N Interstate, includes 51 family apartments. Each family is living below the poverty line, and has a risk or family history of being displaced by urban renewal projects in the neighborhood.
This area is the historic center of Portland's African-American community, which was negatively impacted by the construction of Interstate 5 and other projects. It is named for Charlotte B. Rutherford, who was in attendance at the grand opening. Her parents were early civil rights leaders in the community, heading up the local chapter of the NAACP in the 1930s.
It is the second of three buildings to be completed as part of the Housing is Health Initiative, with major funding — $21.5 million — from six health organizations, including CareOregon, Adventist Health Portland, Kaiser Permanente Northwest, Legacy Health, Oregon Health & Science University and Providence Health & Services-Oregon.
"We, as health care organizations, are all in a position to do something about it, and so we said, 'We will,'" Hunter said.
The building represents "a meaningful leap forward, not only in the health of those who live here, but also for the entire community," he said. "For the 51 households who call this place home, it likely means more than most of us here can even imagine. I'm so proud that CareOregon and our Housing is Health partners made the choice to act on our respective organizations' commitments to doing what we can to help community members live healthy lives."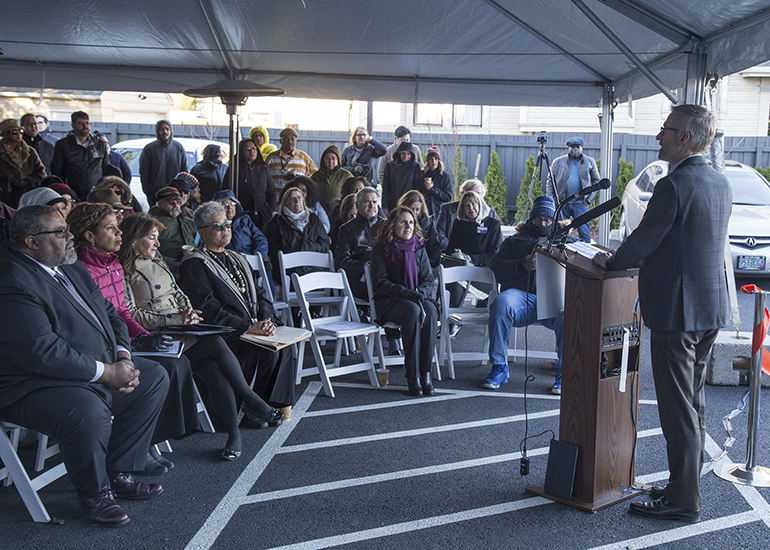 Portland Mayor Ted Wheeler spoke of this latest effort to address homelessness and affordable housing.


The Housing is Health Initiative's Hazel Heights facility opened last week, and its Blackburn Center will open next year. Both are in east Portland.
The buildings will be managed by Central City Concern.

For additional information: