CareOregon kicks off Starlight Parade with float that honors the frontline workers who helped our community navigate the pandemic
Jun 19, 2022, 07:00 AM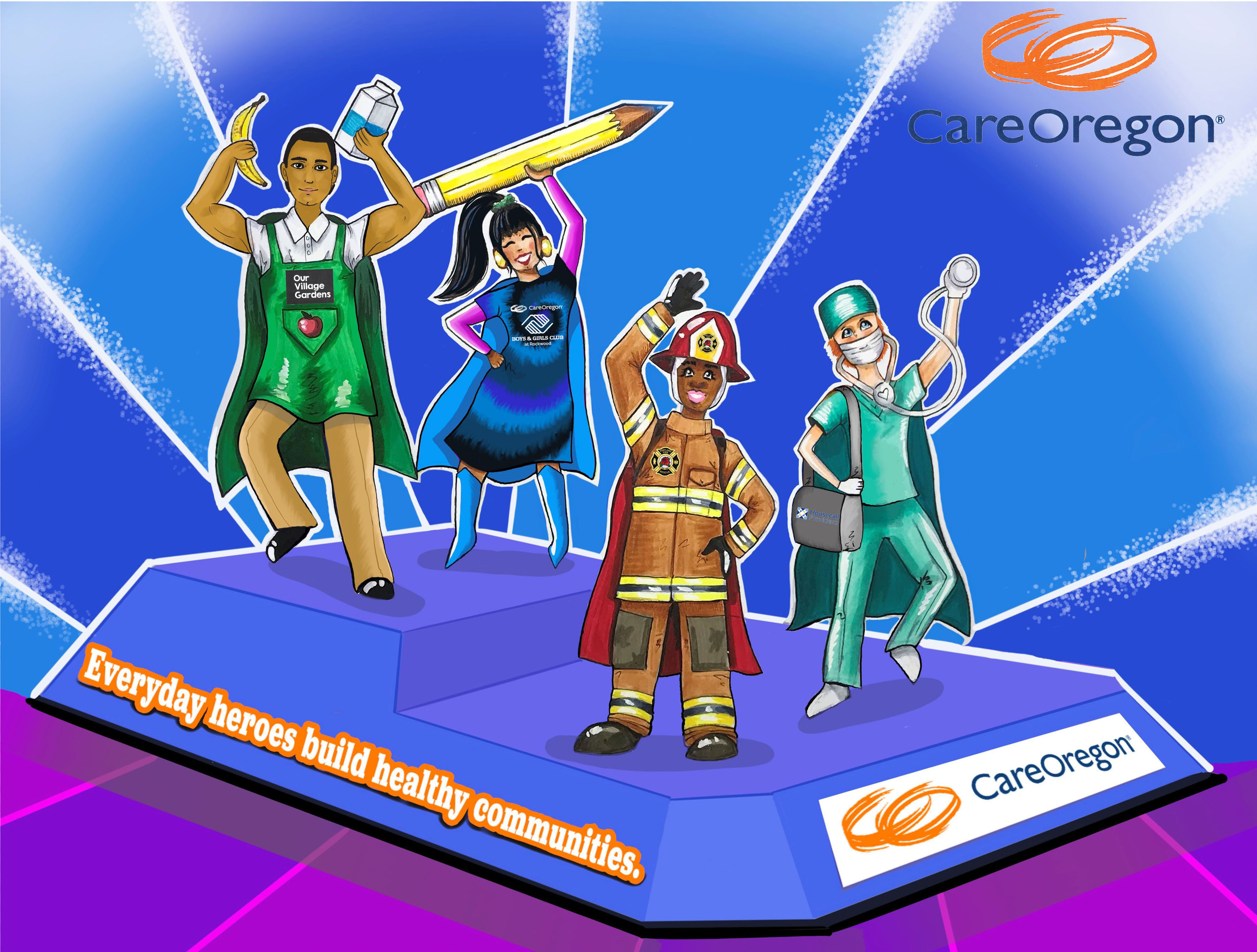 PORTLAND, OR (May 19, 2022)—For the first time in three years, the community will celebrate with a season of Rose Festival parades. As part of CareOregon's inaugural year as the headline sponsor of the CareOregon Starlight Parade, the health care organization will showcase a float that celebrates and honors the frontline workers in our community who helped us navigate the pandemic.
"With the theme of the Rose Festival being 'Reunion,' it is only fitting that we recognize community members who made it possible for all of us to come back together again," said Shawn DeCarlo, CareOregon director of community benefit program. "The pandemic has been tough on many of us. The heroic efforts of those folks on the frontlines made it possible for us to continue living our lives. In many cases risked their health for the health of the community. They are true heroes."
The float theme is "Everyday Heroes Build Healthy Communities." It features four larger than life avatars of "everyday heroes" replete with capes and props that show how these workers support our community. The avatars will represent a range of frontline workers including a grocery store clerk, first responder, healthcare worker, and childcare provider/educator.
The CareOregon float will be the first entry in the Starlight Parade. Twelve individuals who have taken heroic actions to help us get through the pandemic will walk alongside the float wearing orange capes to indicate that they are some of our everyday heroes. Importantly CareOregon has selected four individuals, one representing each of the avatars, to walk alongside the float in the parade. Each individual is from an organization that CareOregon partners with to serve the community.
Our heroes include:
First responder: CareOregon is recognizing Portland Fire & Rescue's Community Health Assess and Treat team for their work to help individuals calling 9-1-1 for non-emergency medical needs get connected to the right healthcare resources and on the path to health. Launched in November 2021 with help of a $2.5 million grant from CareOregon, this program has already helped hundreds of community members navigate the healthcare system. Michelle LaVina, CHAT Community Health Nurse Manager, will walk in the parade on behalf of Portland Fire & Rescue.
Medical professional: CareOregon is recognizing the work of Housecall Providers, which is part of the CareOregon Family. Housecall Providers offers in-home primary and hospice care for community members experiencing chronic conditions or severe illness that makes it difficult to leave their homes. These doctors, nurses, social workers and even chaplains have been on the frontlines serving some of our region's most vulnerable patients during COVID. Dr. Pam Miner, Primary Care Medical Director, will walk in the parade on behalf of Housecall Providers.
Childcare provider/Educator: CareOregon is recognizing the phenomenal work of the staff at the Boys & Girls Clubs of Portland Metropolitan Area. Their afterschool care and summer programs are about more than just fun, they give families a safe place for kids to learn and grow. For parents, these clubs have been a lifeline, giving parents a chance to work a full day knowing that their child is cared for, well fed and safe. In late-2021, CareOregon announced a new 10-year partnership with the Boys & Girls Club of Portland Metropolitan Area, which included naming their Rockwood location the CareOregon Boys & Girls Club at Rockwood. Boys & Girls Clubs is also our official community-based organization partner for the Starlight Parade. Terry Johnson, CEO of the Boys & Girls Clubs of Portland Metropolitan Area, will walk in the parade on behalf of the Portland area clubs.
Grocery store clerk: CareOregon is recognizing the work of Our Village Gardens, one of the first non-profit grocery stores in the state. Based in North Portland in the New Columbia affordable housing development, this organization serves a critical need getting fresh produce into a community that would otherwise be a food desert. CareOregon is proud to help fund Our Village Gardens' services. In addition to its grocery store, Our Village Gardens also provides the community with garden plots, access to a community orchard, and job programs for youth. Charles Robertson, Prepared Food Manager, will walk in the parade on behalf of Our Village Gardens.
Behind the float and 12 everyday heroes, approximately 50 CareOregon staff will bring the fun, dancing choregraphed dances to upbeat tunes.
Immediately following the CareOregon parade entry, the Boys & Girls Clubs of the Portland Metropolitan Area will have a strong presence. As CareOregon's official community partner for the Starlight Parade, their entry will feature up to 70 youth representing clubs from across the region in matching tie dyed t-shirts, pom poms and light up accessories.
"Being able to be downtown, engaging the community and celebrating each other, that's what the Starlight Parade is all about," added DeCarlo. "We couldn't be more thrilled to have the CareOregon Starlight Parade kick off parade season."
The CareOregon Starlight Parade will take place on Saturday, June 4, beginning at 7:30 pm. The parade route starts at the Portland waterfront and makes its way through downtown, ending at Lincoln High School. Visit the Rose Festival website for more information.